My practice philosophy is founded on working with an outstanding team. I understand the value of a team approach, which I learned while practicing general dentistry for three years prior to my orthodontic residency. I take pride in not only working with my own team, but the team of dental colleagues within and around the Tyler community.
Education and Continuing Education
Undergraduate Studies in Business Management and General Science – University of Missouri-Columbia
Doctorate of Dental Surgery – University of Missouri-Kansas City, 2006
Advanced Education in General Dentistry Residency, 2007
Orthodontic Residency and Master of Science in Dentistry – University of Colorado-Denver, 2012
The world of dentistry is constantly changing, with improved techniques and products every year. By staying up-to-date, I am able to offer the most advanced and newest orthodontic treatments to my patients which can lead to even better and improved outcomes. It also allows me to work with my colleagues on a regular basis, which allows for better communication for a team approach to patient-centered treatment.
I am involved in several local dental societies, including the East Texas Dental Society, which have numerous continuing education meetings throughout the year. I am also involved in our local Spear Study Club that has monthly CE meetings, which helps all of us to work better as a multi-specialty dental team in the community.
My additional affiliations include:
American Association of Orthodontists
Southwest Society of Orthodontics
American Dental Association
Texas Dental Association
Family and Community
I was born and raised in Fulton, Missouri. After living in several states for school, my wife and I were happy to move a little south. We moved to Longview in 2012 and after commuting to Tyler for over three years, my family and I moved to Tyler in 2016. By being local, I am able to be a part of the community in which I work; it also allows me to be more available to better serve my patients.
I have been married to my wife, Stacy, since 2004. We met in college in a histology lab class. We have been together ever since sharing that microscope! Stacy and I welcomed our first child, Blake, in 2013 and had our baby girl, Lily, in September of 2016.
As a very family-oriented individual, most of my time away from work is spent with my family. Whether it be traveling for family vacations or just hanging out at the house, we all have a good time together. I enjoy spending time with my young kids. When I do have some free time, I enjoy a round of golf when I get a chance!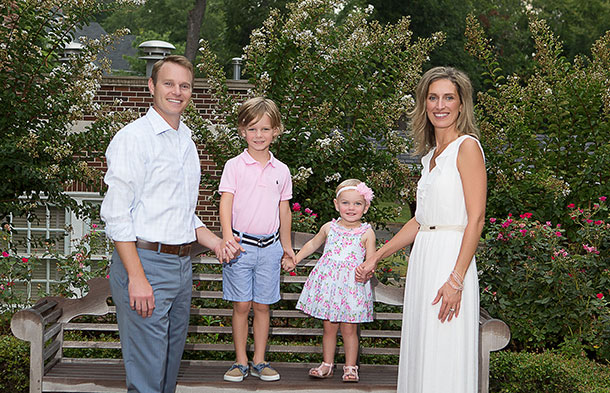 I am so grateful to be a part of such a wonderful community, and I believe strongly in being involved in my community. Every year I work with local charities and non-profit organizations and help sponsor various events that benefit the community and people within it.
Fun Fact: I enjoy scuba diving (but could do without the sharks)!